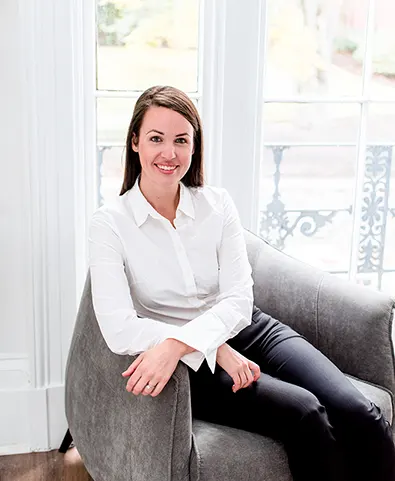 Katie Enman is the owner and founder of Shoreline Immigration Inc. She's a licensed consultant and member in good standing with the College of Immigration and Citizenship Consultants (CICC) as well as a member of the Canadian Association of Professional Immigration Consultants (CAPIC).
Katie is also a licensed foreign worker recruiter in the province of Nova Scotia.
Originally from Moncton, New Brunswick, she moved to Halifax, Nova Scotia in 2010 to pursue higher education and fell in love with the city and its vibrant community, lush greenery, and sandy shores. A true East Coaster, she loves meeting new people, being outdoors, and a good cup of coffee at the nearest café.
Katie brings over 15 years business experience working in the hospitality, retail, and transportation sectors. She's consulted for multinational franchise groups and managed projects for international food providers as well as small local businesses native to the Maritimes. It was during these years she developed a keen interest in the Canadian immigration system and desire to help others achieve their dreams of immigrating to Canada.
She is deeply committed to providing quality service to her clients while ensuring communication and transparency remain top of mind.
Why Shoreline?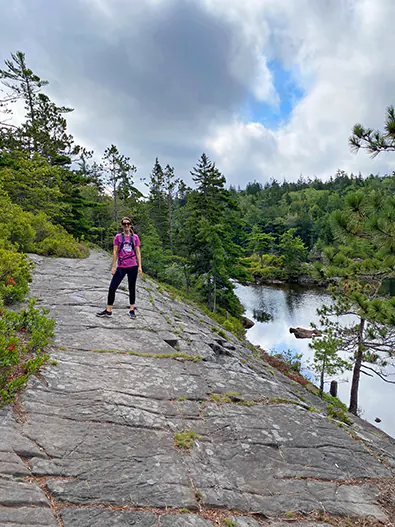 Communication. Clarity. Candor.
The Canadian immigration system can be overwhelming. Helping alleviate confusion through concise communication is the foundation of what we do. We aim to provide a clear and practical blueprint for clients while also maintaining a level of honesty and frankness.
Shoreline's practice is focused entirely on the Atlantic region and we can confidently speak to living, working, and studying here based on experience and first-hand accounts. Whether it's connecting you to a university advisor, providing insight into the job market, or simply recommending a good hiking trail, being present and having 'boots on the ground' is something we take pride in.
How We Work
Step 1: Book a Consultation
Reach out to book an Initial Consultation ($125 CAN). You will be asked to complete a form and suggest dates/times to book a meeting. Providing as much information as possible in this form will help us prepare for the meeting. Please review the list of services we offer to ensure you're in the right place. Our primary focus is economic immigration. We do not provide consultations or services relating to family class sponsorships, refugee, or Humanitarian & Compassionate cases. If you're looking for information on study permits, work permits (PGWP, Co-Op, Employer Specific, Spousal, etc.), TRVs (Temporary Resident Visas), Provincial Nominee Programs, Permanent Residence applications, or LMIAs, you're in the right place.
Please note we do not find jobs for applicants. If this is your primary purpose for booking a meeting, please consult a job search website instead.
Step 2: Initial Consultation
This 1-hour meeting (in person if applicable, by email, or over Zoom) will allow us to discuss your case, determine your eligibility, or any other issue or questions you may have. After the consultation, we will follow-up with an email recapping our conversation and suggestions moving forward. By booking a consultation, you are under no obligation to retain our services for an application submission. Sometimes all you need is the answers to a few questions and we are happy to help with that.
Step 3: Sign the Retainer Agreement
If it's determined after the initial consultation you would like to engage our services, you will be presented with a Retainer Agreement (RA). This agreement will outline the client and consultant roles and responsibilities, billing method, payment terms, etc. We highly recommend you review this Agreement thoroughly and follow-up with any questions before signing.
Please note government processing fees are not included in professional fees and that occasional increases of these fees are implemented by and at the sole discretion of the Government of Canada.
Professional fees are based on the process and not the result. Positive outcomes are never guaranteed in Canadian immigration and our role is to work with you in preparing and submitting a thorough and complete application based on the information available to us and in front of us. Promises or guarantees by a consultant or lawyer should be reported to CICC or the respective provincial law society.
Aside from government processing fees and professional fees, other costs you may be expected to pay in relation to your application may include:
Biometrics
Medicals
Document translation
Language test
Document notarizing
Travel/health insurance
Police Clearance Certificates
Marriage/divorce certificates
Educational Credential Assessment
This list is not exhaustive and other documents may be required depending on a client's application.