If you've ever tried searching the term flagpoling on the Government of Canada website, you may be hard-pressed to find anything. While this method of obtaining or activating your immigration status is commonplace within the international community, little is mentioned online about the process, limitations, and risks.
So let's start with the basics.
What is Flagpoling?
The term flagpoling is when an individual who is already inside Canada, leaves Canada, and returns without ever crossing into the United States. This is done with a few goals in mind:
Activating a new permanent resident status (for example, if you were approved overseas and need to activate your status and/or have documents printed)
Renewing a study or work permit
Changing status (for example, a visitor applying for a work permit)
Flagpoling is a well-known time saving mechanism that essentially allows a foreign national to bypass the outland visa post by applying directly at a Canadian Port of Entry. By travelling 'around the flagpole', those eligible benefit from a speedier and, at times, more straightforward application process. Some applicants choose to stay in the USA for a few days (perhaps an extended vacation) before crossing back into Canada while others flagpole immediately.
How it works
Drive (or walk) to the Canadian border and advise the USA border officer you are flagpoling.
They will direct you to the US Immigration Office along with a referral (usually a yellow piece of paper).

At the USA Immigration Office, you will complete a 'Refusal of Admission' form. They will then direct you back to the Canadian side where you'll present the appropriate documentation/forms to complete your application.

Documentation for work permit may include:

Valid passport
Current (and valid!) work or study permit
If applicable, proof of implied status (payment receipt and copy of extension application)
Employment contract with signatures of both employee and employer
Labour Market Impact Assessment (positive) letter
PNP Nomination Certificate
PNP Work Permit Support Letter
Resume
Valid Medical
Payment method
Insurance
IMM 5476 (Use of Representative form) if applicable
If applying for a co-op work permit, you'll need to bring the letter from your DLI confirming the dates and eligibility
If you're applying for your PGWP, you'll need your Letter of Completion/transcript from your DLI
If you're applying for a Spousal Open Work Permit, you'll need to bring your spouse! Remember the only reason you're eligible for a SOWP is by way of your spouse/common-law partner working or studying. They will need to present their relative documents as well.

While a physical Work Permit application isn't required, you may still choose to complete one and have it on hand when you arrive at the border.

If you are flagpoling to have your PR status/visa validated, you will need the following documents:

Valid passport, OR Travel or identity document with visa counterfoil if you have one
Confirmation of Permanent Residence OR Permanent Resident Travel Document (PRTD)
Letter of Introduction along with any instructions from the Canadian Visa Office abroad
Proof of legal status in Canada which may include your work permit, study permit, visitor record, etc.
Other as applicable
Benefits of Flagpoling
Speed and instant results on an application are the two primary reasons for flagpoling.
With over 2 million applications in the current IRCC backlog, many are turning to flagpoling to avoid finding themselves out of status and being forced to stop studying or working while awaiting a decision on a pending application. While you won't find the term flagpoling in Canadian legislation, this loosely defined concept is recognized by Canadian Border Services Agency (CBSA) and entirely legal for eligible applicants.
Risks
Being eligible to flagpole should be your first question before deciding to take a drive to the border. If you're out of status and present yourself to CBSA, you will very likely be given a removal order.
If you do not have a valid visa to enter the USA, you'll be given an administrative refusal meaning you must declare this refusal on any future Canadian immigration applications. The weight this refusal will carry on your overall application will depend on the other individual factors and something only an immigration officer will be able to answer.
Do's and Don'ts of Flagpoling
If you believe you're eligible and have a time sensitive application, here are some practical tips before heading to the border:
Be organized! Have all the proper identification and bring your documents labelled and easy to find. Have a valid method of payment readily available
Mute your phone
Be aware of the applications that cannot be done at the border. For example, Bridging Open Work Permits are not eligible as you must currently be inside Canada at the time of submission.
If you're on maintained status, you automatically lose your ability to study or work once you leave Canada. This will not be a problem if you're granted a new or extended permit but what happens if something goes wrong?

Here's an example:

Johan is a student at a DLI in Moncton, New Brunswick who is waiting on his Post-Graduation Work Permit to arrive. Because he applied while his study permit was still valid, he has already begun working for a local employer and is benefiting from being on maintained status. However, he is anxiously awaiting a decision on the application and decides to drive to the St.Stephen 3rd Bridge land border in St. Stephen, New Brunswick, roughly 2.5 hours from Moncton. After he arrives, he realizes he forgot his Letter of Completion from his DLI and therefore cannot make an application and must return with the appropriate documents. He's due back at work the following day and cannot return to St. Stephen until the following week. Unfortunately, by flagpoling (i.e. leaving Canada with intent on returning), he has lost maintained status and can longer work.

While many travel to the border to get their PGWPs, it's generally not encouraged as maintained status is a legal and valid way to continue working and can easily be explained to current and prospective employers.
More do's and don'ts
Review the POE hours of operation. Don't show up when they are closed!
Consult current travel, testing, and border measures. Are there vaccination policies in place? Is a PCR test required?
Do you have a valid travel document? A study permit is not a travel document. Make sure you can easily re-enter Canada. This is also the case if you have a friend, employer, or representative coming with you. If they plan on crossing the border into the USA, ensure they are able to come back with either their passport or TRV.
Flagpoling in New Brunswick
For most in the Atlantic provinces, the New Brunswick/Maine border is the most popular POE of flagpoling purposes. Specifically, the St.Stephen 3rd Bridge and Woodstock Rd.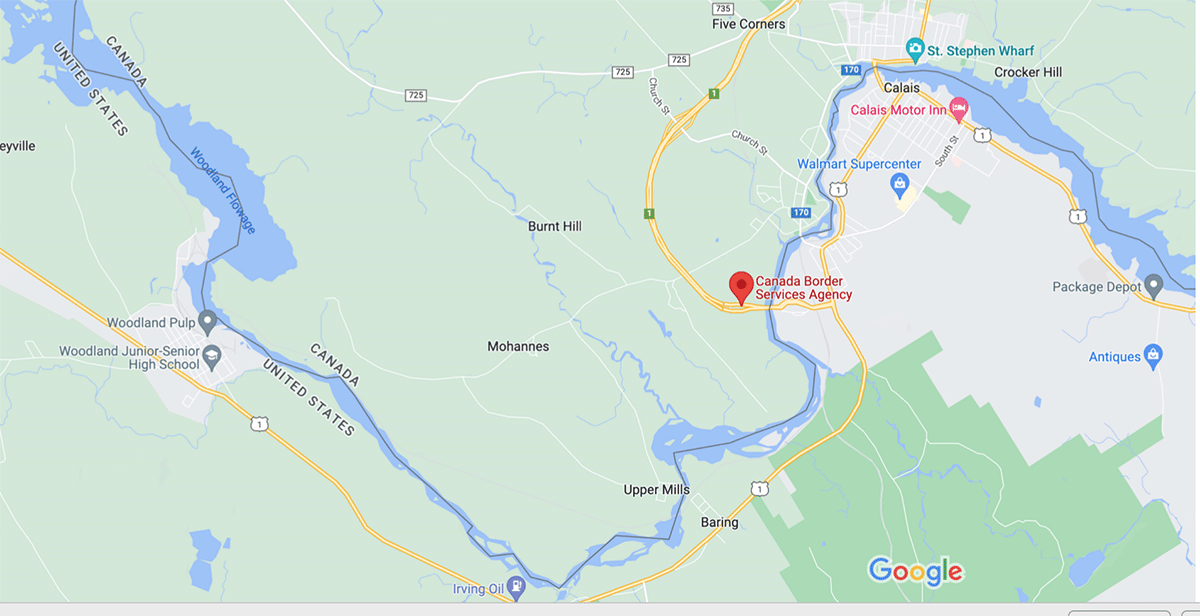 For more information or clarification on whether flagpoling makes sense for your case, please reach out to book a consultation.
Disclaimer:
The article above is intended to provide general and non-case specific information on immigration related matters. It should not be used or relied on as formal legal advice.